Bootstrapping Mobility Startup
---
i-Mobility
Lovely Systems is supporting i-Mobility in bootstrapping their web services and building their tech team.
i-Mobility is a Joint Venture from the Austrian railways ÖBB and Speedinvest aiming to help people to travel convenient from A to B - by train, subway, bus, car, sharing opportunities or any other kind of transportation.
With their iOS and Android Apps "Next stop" they want to become the mobility app in Austria and with more then 300.000 downloads, they are already a player in that market.
Lovely Systems is building web services used by the apps. The services are splitted into horizontal scalable, stateles micro services providing REST APIs. For infinite scale we are using crate.io as our data store, stateless python services, nginx, ha proxies, docker for deployment and react/nodejs as our joice for the web app. The iOS and Android Apps are getting developed by Mohemian.
The offer for the customer currently includes the departure monitor, short- and longdistance routing, ticketing and reservation for car2go.
We are very happy to be part of the future of mobility in austria.
Update September 2016:
A half year after kick off we startet to shift the responsibility for the services from us to the internal team. Now we transfered code-ownership completly. We are very happy that the internal team grew strong enough the handle backend services and web app and native app development by their own.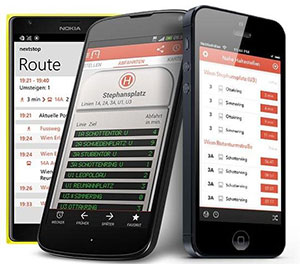 ---